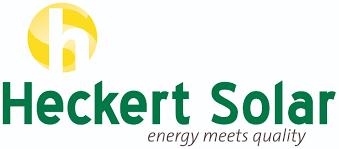 About Heckert Solar
Heckert Solar is an independent, family owned company. Quality Made in Germany is the credo of Heckert Solar. Heckert Solar Premium has been producing solar modules in Germany for over 15 years and has so far realized several thousand projects in Germany and other European countries. Especially in the roofing area, Heckert Solar has been able to establish itself excellently. Well over 1,000 customers are convinced of the quality of our PV modules. In 2016, Heckert Solar will again be honored as the Top Brand PV Germany.
Solar modules from Germany
We are expressly committed to the location Chemnitz in the Free State of Saxony and manufacture exclusively in Germany, as very few other companies in the solar industry. On our state-of-the-art production lines we produce mono- and polycrystalline solar modules in different variants. All modules from our production have the same high quality in terms of yield and service life.
Know-how with system
Our quality credo is not just for the manufacturing industry – from the administration to the customer care to quality control, all employees are focused on it. As a system supplier, we also work together with the leading manufacturers of inverters, rack technology and Co., thus guaranteeing faultless systems and the best service from A to Z.
Data & Facts
2001: Founding of Heckert BXT Solar GmbH
2009: Change of name to Heckert Solar AG – 100% family ownership
2014: Change of name to Heckert Solar GmbH
Location: Chemnitz, GER (3 Works)
Core business: PV module production, trading of system components
Over 600 MWp installed capacity
Main target markets: worldwide partners, constant opening up of new markets
Capacity: 300 MWp
Employees: about 200